AAPAM最早於2006年推出每月$88助養一隻小動物的計劃,至今已經15個年頭了,真心感謝各位善長人翁的信任、支持和鼓勵,讓我們有資源繼續秉持AAPAM不殺不棄的使命,幫助更多動物。
由於AAPAM義工人數緊絀,而且我們重點著手前線救援及照顧,能處理文職行政事宜的義工只有一兩位,所以助養資料已很久沒法更新,更何況此等敏感個資實在不可隨便假手於人,導致進度嚴重滯後。
鑒於被銀行拒絕過數的個案已逾兩百,AAPAM決心整頓及更新助養資料。我們將於適時向各位善長發出短訊、電郵、電話等等,咨詢閣下繼續助養的意願。AAPAM深明在這個艱難的疫情環境下,大家都各有難處,我們旨在更新資料,並尊重閣下的每個決定。倘承蒙繼續資助,AAPAM將不勝感激。
倘閣下有意主動更新資料,歡迎透過AAPAM FACEBOOK專頁INBOX我們。
It's been 15 years since AAPAM's first announcement of the $88/animal monthly sponsorship program in 2006. It's our honour to have your trust, support and encouragement so that we can continue pursuing AAPAM's mission of NO KILLING, NO ABANDONING, helping more animals.
Due to the lack of volunteers at AAPAM, and particularly our focus on frontline rescue and care, only one to two volunteers can handle backup administrative work, while highly sensitive personal data of the sponsorship program should not be passed to any person, all these have led to the lagging of updates.
Since more than 200 rejects are recorded by the bank, AAPAM should hesitate no more but to consolidate our database. AAPAM shall SMS, email, directly contact, etc our sponsors in due course to enquire your intention of the sponsorship program while updating your contact information. We understand the unavoidable challenges in this pandemic and respect your every decision. AAPAM greatly appreciate your continuous support. Should you wish to update your information, please feel free to use our FACEBOOK inbox channel.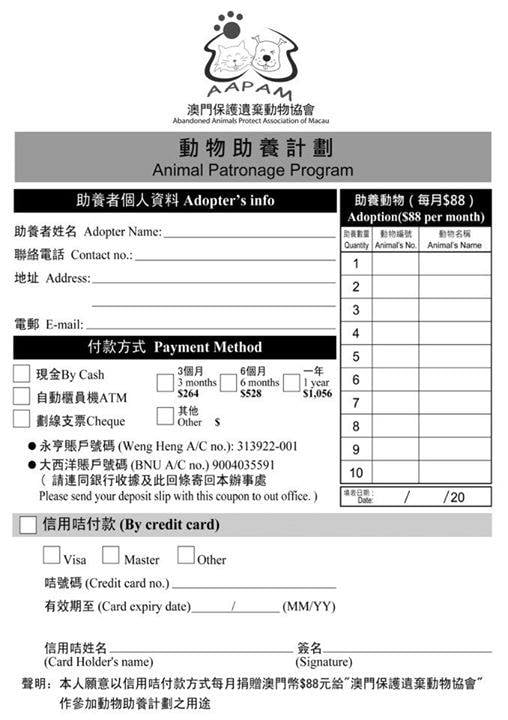 Powered by Froala Editor